Here are the second group of pictures from Rome. Lots of them are panoramic so might take longer to load, but they are worth it.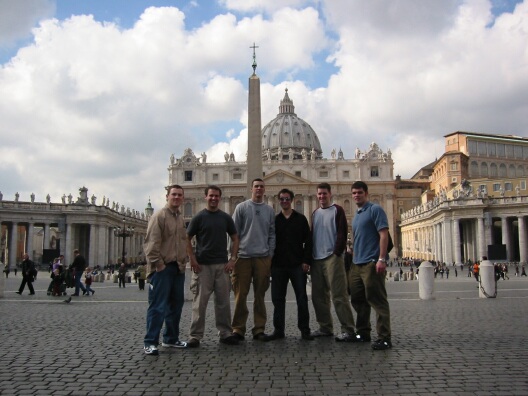 Here is the group of 6 in the middle of St. Peter's square. St. Peter's Basilica is in the background and is the biggest and most impressive church any of us have ever seen.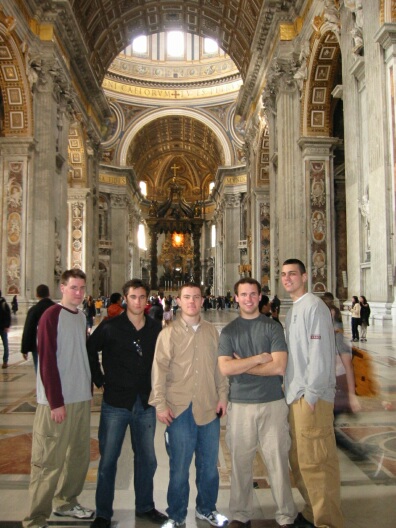 Here are 5 of us inside St. Peter's Basilica. Wow.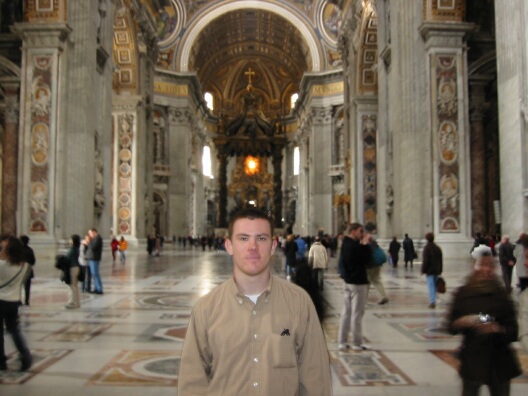 Here is me. Pretty wild.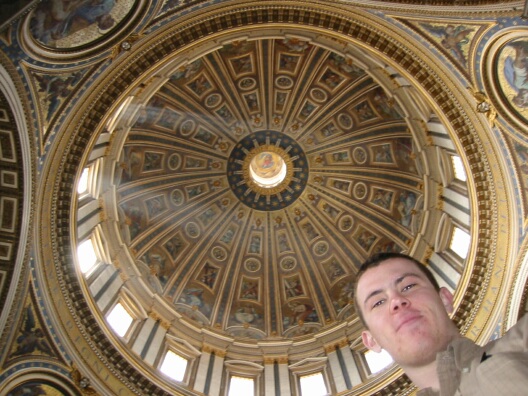 Joe got on the ground and took this picture of me under the dome looking straight up. Everyone in the entire church looked at me and no one else would get in the picture cuz they were embarrassed. Once they saw this picture, see the next picture to see what they did.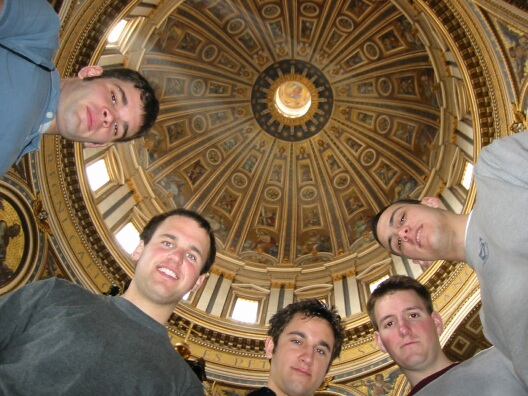 Now I am on the floor after my idea became "cool"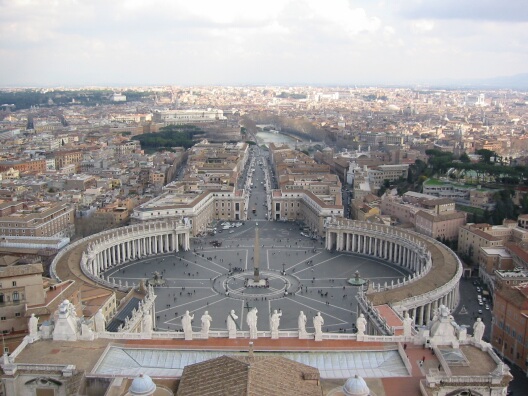 Wow. Here is St. Peter's square from atop the dome of St. Peter's, which was a very long and winding climb. Best view of Rome bar none from up here.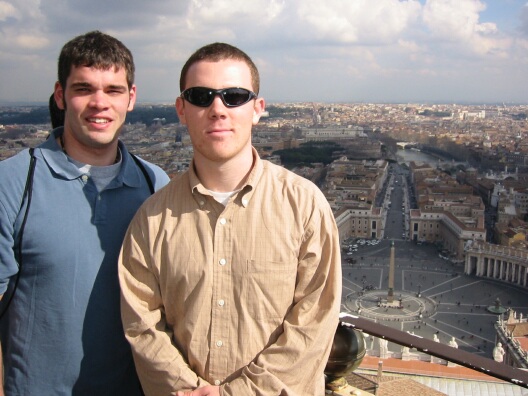 Here are Francis and I with the Square in the background atop St. Peter's Basilica in the Vatican.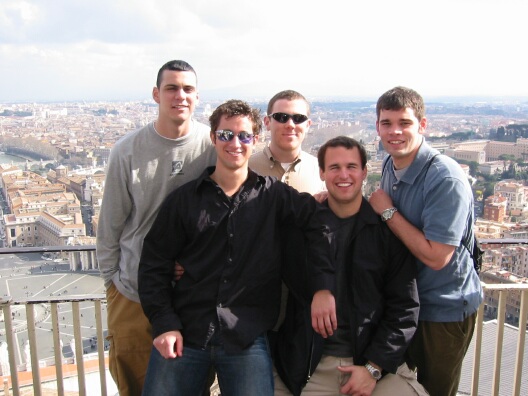 5 of us group for the close pic atop St. Pete's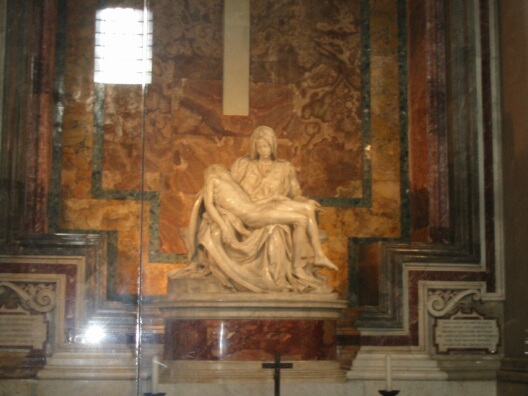 Here is Michelangelo's Pieta, one of the most famous statues in the world and kept in St. Peter's Basilica.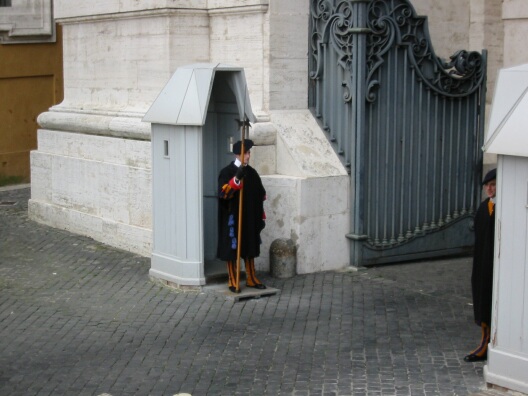 Here are one of the Swiss guards that guard the Vatican. Its considered a country and has its own post office, currency, law, etc., all under the Pope's rule. Swiss guards are supposed to be neutral and thus chosen to guard the Vatican.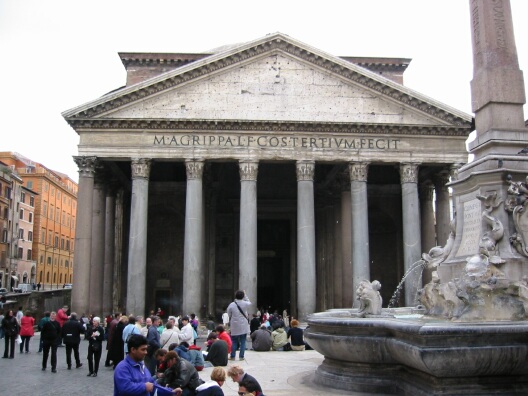 Here is the Pantheon. Its the best preserved ancient Roman building, being a former temple to Roman Gods. The Dome behind the front is the most amazing architectural achievement of the Romans.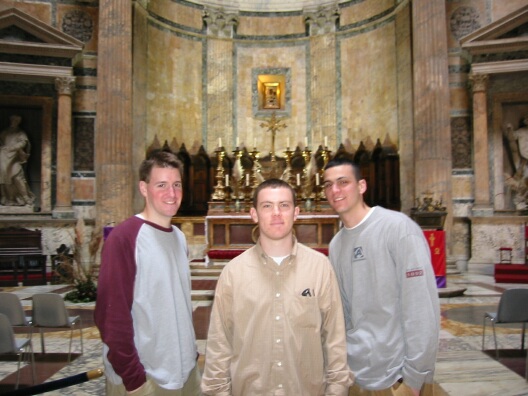 Here John, Me, n Joe gather around the altar of the Pantheon, which has since been converted to a Christian church.

Panoramic of the Forum, which was the main area of the Roman empire and of government in Rome.
Here is another panoramic from atop the Piazza Venezia shown in earlier pictures on page 1. A great view of a cool area of Rome.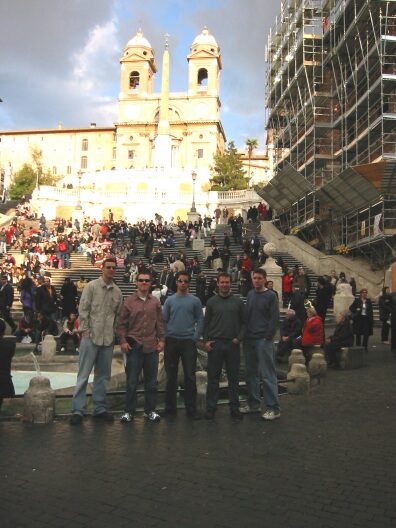 Here are 5 of us at the bottom of the "Spanish Steps", a great gathering place for tourists
This is the best panoramic in my opinion. Its of St. Peter's Square in the Vatican. Its a little distorted but looks OK.
First Break -- Cinque Terra, Italy -- Feb 16-17
First Break -- Florence, Italy -- Feb 17 - 18
First Break -- Rome, Italy (page 1) -- Feb 18 - 21
First Break -- Athens, Greece -- Feb 21 - 24